The way we book emergency and routine appointments may seem a little complicated – but it really isn't, once you understand the steps. That is why we have taken advice from the Dyfi Valley Health Patient Forum to explain the steps to booking appointments and where the new Triage phone call system fits within it.
A Brief Background
We all know that getting an appointment can seem difficult. Even though each year thousands of appointments are missed at Dyfi Valley Health (over 2900 were missed in 2018). We at the surgery, are often the brunt of patient frustration. We always do our very best to help you and have recently implemented various initiatives to help reduce missed appointments, such as text message reminders.
Having to wait for a GP appointment is a national issue… according to the Pulse GP Publication, more than 22% of practitioners surveyed said waiting/lead times stretched beyond three weeks.
To put it simply, the GP Triage system was implemented to help ensure that doctor and nurse time was not being used on appointments that do not require a face-to-face appointment, such as everyday colds and coughs, etc. The aim is to ensure that those who need to physically see someone will do and cut the waiting/lead time for these appointments as there is more availability.
The Triage System
The Triage is a fancy word that basically means that a full trained GP or Advanced Practitioner will phone you and talk to you about your condition. This is basically an informational phone call to decide who would be the best member of our team to help you.
The clinician will then be able to determine if you do need to see someone in practice or not. They are, if applicable, also able to arrange treatments / medication, referrals, arrange appointments, or follow-up appointments.
It has been proven to make the process a lot more efficient for patients and clinicians.
Appointment and Triage Workflow
The following flow diagram shows how we make appointments, as well as, where the GP Triage system fits in within it.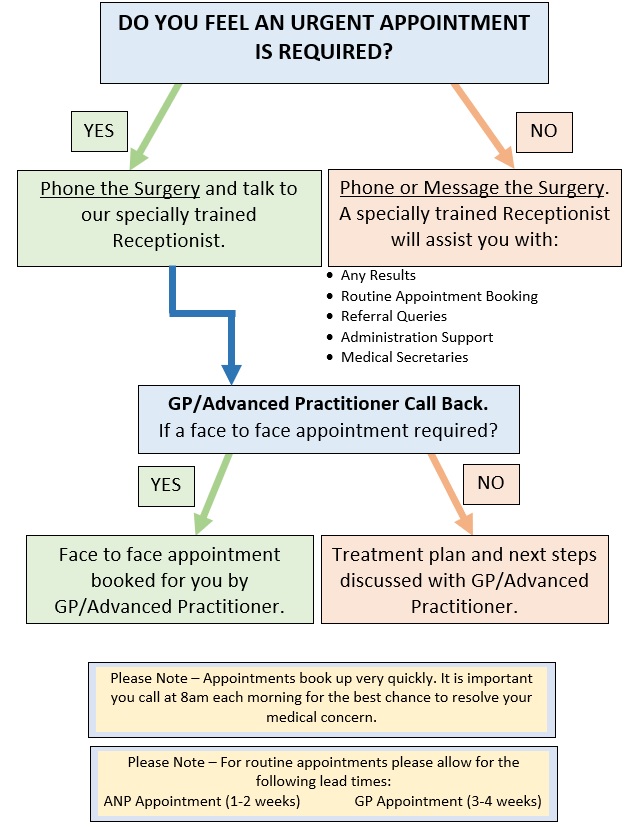 Please Note
Appointments book up very quickly. It is important you call at 8am each morning for the best chance of getting an emergency appointment.
For routine appointments please allow for the following lead times:

ANP Appointment (1-2 weeks)

GP Appointment (3-4 weeks)